Tooth Replacement Options
There are a few possible options for single tooth replacement for a tooth that has been knocked out. If you can see a Gainesville dentist within 30 minutes of the injury, we may be able to successfully replant the tooth. Stabilizing splints are used to support a replanting tooth and can be required for several weeks. Root canal therapy is then used to further treat the tooth.
While replanting can be successful in many situations, several factors can affect whether or not your situation is ideal. The length of time in which the tooth is outside the mouth, the amount of damage caused to the area and the way the tooth is stored can have an effect on whether the tooth can be saved. If your tooth is not able to be replanted, there are other options to restore the appearance of your teeth and gums.
Implants. A dental implant can hide the fact that you have a missing tooth. Implants are permanent solutions to missing teeth that are placed in the jaw bone.
Bridges. A dental bridge can be used to cover the area where more than one tooth has been knocked out. Our bridges are custom-made to ensure that they fit securely on each patient.
Partial Dentures. If several teeth have been knocked out or damaged beyond repair and require extraction, partial dentures can give you back the use of your mouth and provide support to your facial muscles and cheeks.
My Tooth Was Knocked Out. What Should I Do?
If a tooth has been knocked out, the surrounding tissue and nerves can become susceptible to infection and further damage. In some cases, a tooth can be saved and replaced, so don't panic if you have lost a tooth during an accident, sports match or other physical activity. We recommend following these simple steps when a tooth is knocked out to help alleviate pain and avoid any further risks.
1. Secure The Tooth
Handle the knocked-out tooth with care, and never touch the root. If the tooth is dirty, gently rinse it with water. Do not use cleaning chemicals, do not scrub the tooth, and don't wrap the tooth in a cloth or tissue.
2. Treat The Symptoms
Take over-the-counter pain medication, such as acetaminophen or ibuprofen. Do not place an aspirin on the tooth or gums as this can damage gum tissue.
3. Re-insert Or Store Tooth
If you can, try to replace the tooth. Carefully reinsert the tooth by holding the crown. If reinsertion is not possible, do not let the tooth dry out. Preserve the tooth in an emergency tooth kit or in a small container with milk.
4. Clean The Area
Rinse the area with warm salt water and gently clean the area with gauze if it is bleeding. If the area affected has been injured, apply a cold compress to decrease swelling and alleviate bruising.
Gainesville Emergency Care Dentist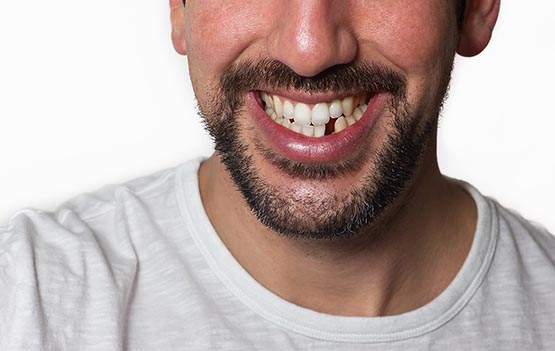 Accidents happen, and knowing what to do when one occurs can mean the difference between losing and saving a tooth. To locate an office that performs emergency dental care in Gainesville, FL, look no farther than Van Dyke General and Implant Dentistry. With proper emergency care, a knocked out tooth can be successfully replaced and last for years. The sooner the tooth is replanted, the better the chances are it will survive.
If you are in need of dental emergency care, we are here to help. The need for emergency dental care from pain is never a good feeling. Restore your self-confidence and the health of your teeth. Contact us today to schedule an appointment and be one step closer to having healthier teeth.