What Are Porcelain Veneers?
A veneer is a porcelain shell that is bonded to the front of the tooth to replace chipped teeth or to change the shape and color. Porcelain veneers are used in cosmetic dentistry to improve the appearance of the teeth, hiding imperfections and leaving patients with a brighter smile. Porcelain veneers can close gaps between the teeth and even make relatively straight teeth appear straighter. Whether your teeth have been damaged by tooth trauma or decay or you just want to change the visible appearance of your teeth, veneers can transform your smile. When adhered to the outer surface of a tooth, porcelain veneers mimic the light-reflecting properties of natural teeth that are gum tolerant and resistant to most stains. Schedule a consultation for porcelain veneers to see if you are a candidate.
Veneers Process
During your first visit for veneers, you will have the opportunity to speak with our skilled team of dentists in Gainesville about your goals for your bright new smile. Then, your dentist will decide which cosmetic dental plan will work best for your teeth. This normally involves taking impressions of your mouth with wax in order to confirm the proposed treatment.
Your second visit during the veneers process involves certain preparation steps to craft your new smile. Our dentists will provide you with temporary veneers, which allow you to try on the veneer to test how well it fits your unique mouth and bite.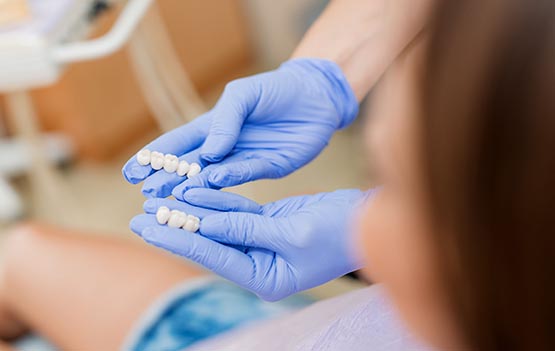 This fitting allows us to determine which shade of porcelain coloring works best for your appearance and your surrounding natural teeth. Temporary veneers allow the patient and dentist to work out any changes to shape, color or bite for a final result that feels as perfect as it looks. The last step of the porcelain veneer process involves veneer bonding. This third and final step involves bonding the customized porcelain veneers to your teeth. Once applied to the tooth, the bonded veneer is then exposed to a high-intensity light, which hardens and fixes the veneers into their final placement, leaving you with a natural smile you will enjoy for years to come. Special care is required to ensure the veneers last over time.
What Can Veneers Fix?
Rather than physically correcting tooth imperfections, porcelain veneers cover teeth that contain visible issues. As such, veneers are best used to cover cosmetically imperfect, but otherwise healthy teeth. If your teeth have more significant damage that affects the integrity, function, or health of your teeth, then another tooth restoration treatment may be ideal. Dental veneers can be used to treat a wide variety of apparent, cosmetic tooth issues, including the following.
Chipped Teeth
Uneven Teeth
Gapped Teeth
Stained Teeth
Discolored Teeth
Teeth With An Irregular Surface
Pitted Teeth
Teeth with Grooved Enamel
Misshapen Teeth
Crooked Teeth
Oddly Shaped Teeth
Worn-Down Teeth
How To Care For Your Veneers
Your Gainesville dentist will provide your with instructions detailing how to take care of your new veneers and to maintain their appearance. In general, however, once your veneers are applied, you may be instructed to follow these, and other, directions, to ensure your new smile lasts for years to come. For additional information on how to care for porcelain veneers, contact us.
Brush and floss at least twice per fay
Attend regularly scheduled dentist appointments every 6 months
Avoid abrasive toothpastes and toothbrushes
Be aware of any temporary tooth sensitivity
Wear your provided night guard (if applicable) to help prevent tooth grinding and clenching
Contact your dentist with any additional questions or concerns
How Long Do Veneers Last?
The lifespan of dental veneers depends on the type of veneers you have as well as how well you care for them once they are applied. Porcelain laminate veneers can last anywhere from 10–12 years, while veneers made from composite resin likely require replacement sooner. Composite resin veneers last for approximately 4–8 years. Van Dyke General and Implant Dentistry ensures that each tooth veneer you receive is made from the highest-quality porcelain and bonded using state-of-the-art technology by highly skilled dentists. For more information about the functional lifespan of porcelain teeth veneers, please contact us.
Does It Hurt To Get Veneers?
At Van Dyke General and Implant Dentistry, we prioritize the comfort of our patients while they receive the high-quality care their smiles deserve. During your teeth veneers procedure, you will receive a local anesthetic in order to help ensure that you are comfortable and pain-free during treatment. In most cases, a patient's mouth will be numbed with a topical anesthetic before preparing their teeth for the placement of their veneers.
Following the appointment, you may feel some degree of soreness, but our dental team will provide you with aftercare tips to help make your recovery process as painless and as simple as possible. Get stunning, lasting veneers results from local dentists you can trust! Contact us today for an appointment.
Do Veneers Look Natural?
If you plan to receive one or a small number of veneers, you might wonder whether or not the final veneers before and after results will appear natural. Will your veneers stand out from the rest of your smile? No! When you come to Van Dyke General and Implant Dentistry, you'll be pleased to know that your dentists designs each of your veneers to mimic your existing tooth enamel. So there is no need to worry about any abnormalities that might distinguish a tooth with a veneers from the surrounding teeth without veneers. The end result of your treatment will be perfectfly natural-looking and a marked improvement in appearance!
Veneers Vs Crowns
Porcelain veneers and dental crowns are two methods of dental restoration that can improve both the appearance and the function of your teeth. The most important or primary difference between a veneer and a tooth crown is the area of coverage provided by each. While veneers cover only the front, visible portion of the tooth, teeth crowns cover the entirety of the teeth. While each procedure is different, both offer high success rates and provide patients with outstanding results. With a veneer, the procedure is typically less invasive than with crowns, because the veneer-preparation methods leaves more of the original tooth intact.
For a veneer to function as required, however, the tooth must have enough enamel on it for a veneer to successfully bond to it. This means that patients with missing teeth, broken teeth, or otherwise not enough tooth or enamel for veneers might be better suited choosing another cosmetic dentistry method to restore their smile. Crowns cover the entirety of teeth. With a crown, more of the tooth must be filed or ground down in order to place the crown than that of a veneer. Teeth that require fillings and teeth that are damaged may have to be built up in order to properly support the crown. Additionally, teeth with crowns may experience some movement, which may change the patient's bite over time. In this case, their crown must be adjusted. Veneers, alternatively, do not generally alter the bite or alignment of the teeth.
Composite Vs Porcelain Veneers
Composite veneers have many advantages, including their cost-effective nature without requiring a sacrifice of quality or a natural appearance. With composite bonding veneers, the veneers are sculpted onto each tooth rather than an independent item made in a lab. The tooth-colored resin is applied directly to the teeth and it is then shaped, sculpted, and polished to a brilliant finish, in order to portray a natural appearance that matches the general aesthetic of the surrounding, natural teeth. Porcelain veens are made from a special porcelain material that is more durable than that of composite resin veneers.
As a result, porcelain veneers generally last much longer than composite veneers. With proper care, porcelain veneers and can more than a decade, while composite veneers typically last less than 8 years. To find out which type of veneer is best suited to your oral health goals and cosmetic oral desires, contact Van Dyke General and Implant Dentistry!