Brush-Up On Your Teeth Cleaning
Everyone wants healthy teeth and gums for a bright and beautiful smile. But achieving excellent oral health doesn't happen overnight, nor does it result from at-home oral care alone. It requires an ongoing commitment to regular dental care, both at home and in partnership with your dentist in Gainesville. A number of factors impact oral health, including diet, lifestyle, brushing and flossing habits, medications you take and your overall health. During your teeth cleaning, or dental prophylaxis, our general dentistry team reviews your overall health, as well as your dental health, in order to achieve a more holistic approach that facilitates top oral health.
Van Dyke General and Implant Dentistry offers a comprehensive range of cosmetic, implant, and general dentistry services, each of which is customized to help our patients achieve a bright, beautiful, and healthy smile. We recommend scheduling routine dental checkups and teeth cleanings at least twice each year, so you can achieve and maintain optimal oral health. Contact us today to schedule a teeth cleaning appointment with our Gainesville dentists.
Routine Dental Cleaning
The primary goals of a tooth cleaning procedure is to clean the teeth and gums, remove bacteria and plaque, and improve the overall oral health of the patient. A basic, professional teeth cleaning procedure focuses on cleaning the areas of your teeth above the gumline. A routine dental cleaning is typically appropriate for patients with little-to-no plaque and tartar accumulation and those who regularly visit their dentist for twice-yearly dental checkups and cleanings. However, patients who suffer from periodontitis or periodontal disease, as well as those who do not visit their dentist for regular cleanings may require a deeper cleaning to actively treat their teeth and gums. Find out what type of cleaning you need! Contact us.
Deep Teeth Cleaning
A deep teeth cleaning may be appropriate for patients who suffer from periodontal disease, or gum disease, as well as those who do not receive regular dental checkups and twice-yearly dental cleanings. The dental deep cleaning is similar to a traditional dental cleaning, in that they both actively treat the patient's teeth and gums, though deep cleanings typically penetrate deeper into the gums and feature a more thorough procedure. This can include scaling and root planing, which are techniques used to remove plaque, tartar, and bacteria from below the gumline and in between the teeth. You may need a deep dental cleaning if you have a consistently bad taste or breath, separating or loose teeth, gums that bleed easily, gums that are swollen or tender, or gums that have receded from your teeth.
What Happens During A Teeth Cleaning?
Understanding what happens during your dental cleaning can help ease any stress you may have and allow you to better enjoy the sparkling and fresh results of the procedure. The exact steps followed in your dental cleaning will depend on a number of factors, including your oral health and whether you require a regular dental cleaning or a deep dental cleaning, among other considerations. Generally, however, a teeth cleaning comprises an oral exam, plaque and tartar removal, a cleaning with a gritty paste, flossing, rinsing, fluoride treatment, and a final inspection by your dentist. For more information about what to expect during professional teeth cleaning, contact Van Dyke General and Implant Dentistry.
Oral Exam
Most teeth cleanings are performed by a member of our dental hygienist team. Before the manual teeth cleaning procedure begins, patients first receive a physical dental exam of their entire mouth, either from their dentist or their dental hygienist. The provider uses a small mirror to inspect the areas around the teeth and gums while looking for any signs of gingivitis or other potential oral concerns. If a significant issue is detected, then the provider will select the best type of cleaning for the patient and their course of treatment.
Plaque And Tartar Removal
Using the small mirror, a member of our dental team uses dental cleaning tools, such as a scaler, to remove plaque from the areas around the gum line, in addition to between the teeth. This produces a scraping noise, which is to be expected. The more the amount of tartar and dental plaque in a patient's mouth, the greater amount of time will be required to scrape a particular area. The best way to avoid the buildup of plaque and tartar is to brush and floss more often and use an improved technique.
Gritty Toothpaste Cleaning
Once the patient's teeth are free from tartar, plaque, and other types of oral build-up, then the dentist or dental hygienist uses a high-powered electric brush to wipe away the debris. Professional toothbrush cleaning often includes toothpaste that smells and tastes like regular toothpaste, though there may be other flavor options for flavor. Unlike regular toothpaste, however, this paste has a gritty texture that gently scrubs the teeth. When performed by a professional, brushing with a gritty paste is deemed safe to use twice a year.
Mouth Rinsing
Throughout the cleaning, patients are asked to rinse their mouths out. The patient will be given a cup of water or liquid fluoride to use for rinsing out their mouth to get rid of any debris left over from the treatment.
Flossing Between Teeth
Patients should floss their teeth while practicing their regular oral hygiene routine. But nothing beats a professional flossing session. The dental hygienist can move the floss deep between the teeth and locate any potential trouble areas where the gums may bleed as a result of flossing. Having a professional floss your teeth allows for the thorough and complete removal of any leftover plaque or toothpaste left over from earlier in the cleaning process.
Fluoride Treatment
The final step of the cleaning process uses a fluoride treatment, which is a protectant for the teeth that helps fight against cavities and tooth decay for several months after its performed. The fluoride treatment may come in several different flavors, from which the patient may choose. Once the flavor is chosen, then the hygienist applies a foam, gel, or sticky paste into a mouthpiece that fits over the patient's teeth. The mouthpiece is to remain in place for a minute or so. In some cases, fluoride varnish may be applied to the teeth with a small brush. This varnish hardens when it comes into contact with saliva, so patients can eat and drink immediately following their treatment.
Final Checkup With Dentist
Professional cleanings are usually scheduled twice each year, while dental X-rays are often taken just once a year. This may vary, however, depending on the unique oral care requirements of the patient. Whether a patient requires any additional steps or not, the key to achieving and maintaining top oral health is to visit the dentist for regular teeth cleanings and dental exams.
When Is The Best Time To Schedule A Teeth Cleaning?
People often think about their dental health only when they are in pain or need an emergency dentist appointment. Though dental emergencies do happen, regular teeth cleanings reduce the chance of patients requiring emergency dental care. There are numerous advantages to regular teeth cleanings, including identifying early warning signs of serious dental issues.
Bacteria and bits of food combine in your mouth to form white, sticky plaque. When left long enough, plaque becomes tartar. This can cause tooth decay, which often leads to cavities. Twice-a-year cleanings at Van Dyke General and Implant Dentistry removes this buildup and may prevent periodontal disease. Cleanings also involve polishing, a pain-free process that removes additional stains and plaque. The result is a brighter, whiter smile, and usually in under an hour.
Benefits Of Regular Teeth Cleaning Appointments
Nothing beats a professional dental cleaning from a Gainesville dentist at Van Dyke General and Implant Dentistry. For a great, clean feeling that lasts, schedule your next appointment.
Save Money
Regular cleanings are a great way to avoid appointments with an oral surgeon. Visiting your dentist regularly makes it easier to stop small problems from becoming large, expensive issues.
Avoid Periodontal Disease
The health of your teeth is an indicator of your overall health. Regular cleanings ward off periodontal disease, which may be an indicator of heart disease and other issues.
Detect Oral Cancer
Part of every cleaning is an inspection of your mouth to look for signs of oral cancer. One person dies from oral cancer every hour, but this disease can be treated if caught early.
Prevent Cavities
Cavities can transform from minor issues into big problems in no time. Regular cleanings prevent cavities from developing and provide the opportunity for prompt cavity treatment.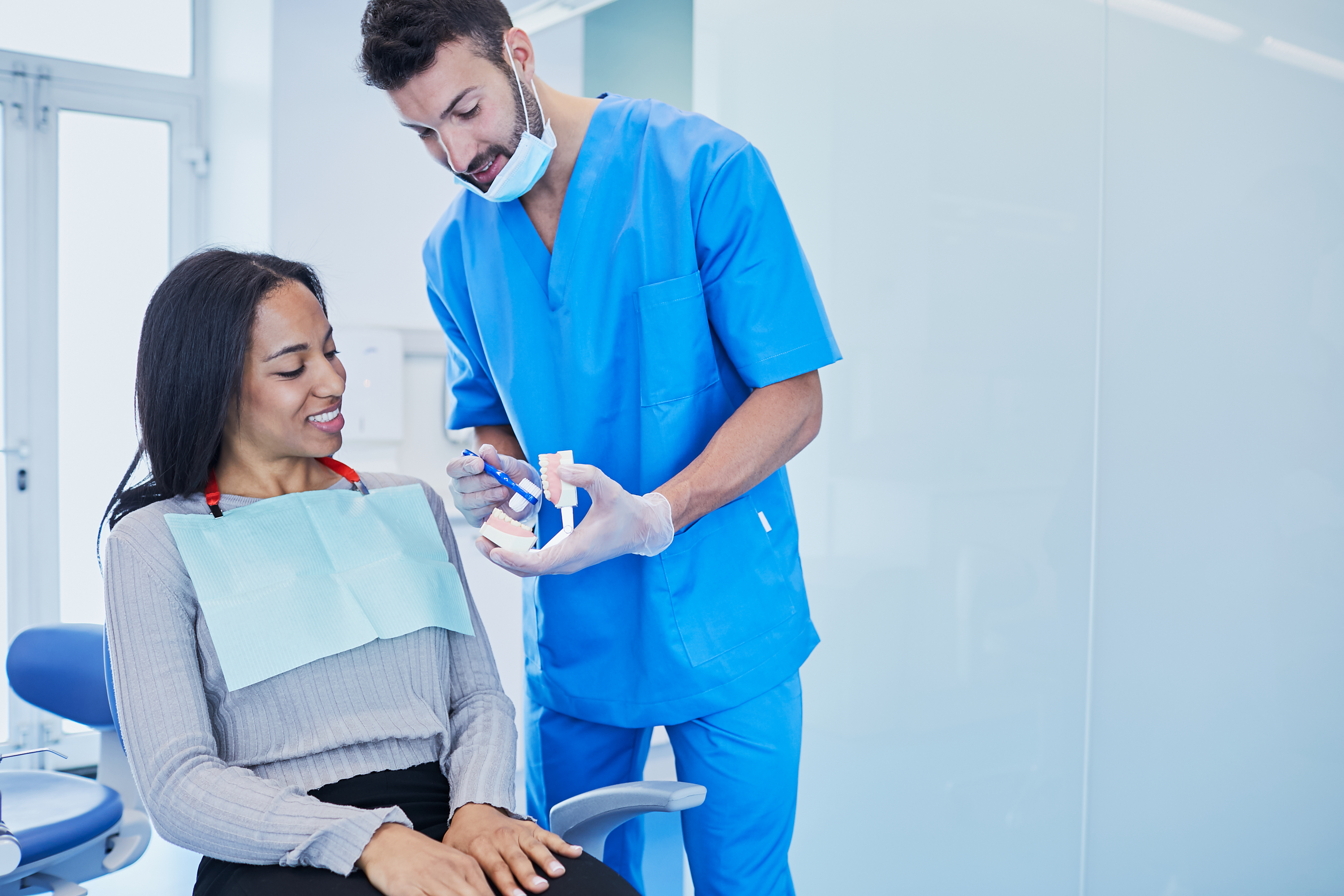 Continual Oral Care With Your Gainesville Dentist
For thorough dental cleaning, visit Van Dyke General and Implant Dentistry. We provide general dentistry services, including teeth cleanings on patients of all ages who are in need of regular, bi-annual cleaning. There's nothing like the smooth, fresh feeling of your teeth after a cleaning. You'll know you're practicing good oral hygiene and that you're taking good care of yourself.
Our dentists in North Central Florida offer a convenient location for all of your dental needs. Visiting us twice a year is the best way to remove plaque and tartar to ensure your continued health. Schedule your teeth cleaning appointment today!