Oral & Maxillofacial Surgery
Are you in need of a Gainesville dentist to reconstruct that smile of divinity? At Van Dyke General & Implant Dentistry, our oral surgeon in Gainesville has the qualifications, skill, and experience to grant every patient the smile of their dreams. Depending on your mouth condition, oral and maxillofacial surgery may be the best course of action for ensuring the impeccability of your oral health and wellness as well as your physical appearance.
From an infected wisdom tooth to replacing missing teeth with implants, we will do everything in our power to ensure the smoothness of every surgical procedure that we perform. Contact us today to schedule a dental appointment for oral surgery and to learn more about the wide range of general dentistry treatments available at our dental clinic.
What Is Oral Surgery?
Oral surgery and maxillofacial surgery are surgical specialties involving the diagnosis and treatment of various diseases, injuries, and defects that involve the function and physical appearance of hard and soft tissues of the head and neck region. This encompasses various oral conditions on a wide, specialized spectrum, ranging from oral injuries to facial pain, all treated through surgical procedures.
Oral surgery may be performed as a standalone treatment or as one facet of a more comprehensive treatment plan. Our oral surgeons are trained to treat the various ailments of this spectrum including the extraction of impacted teeth, surgical correction of cleft lip and palate problems and unequal jaw growth, and surgical implantation of dental implants.
Periodontal Surgery
If you have moderate-to-severe gum disease or periodontitis, then your dentist may recommend gum disease treatment through oral surgery. During this procedure, incisions are made along the patient's gum line and the gum tissue is temporarily moved back away from the teeth. The surgeon will then clean the roots, flushing out plaque and bacteria accumulated beneath the gums. Last, the gum tissue is repositioned and sutured into place. In some cases, gums can pull away from the teeth as a result of periodontitis. In this case, a gum graft may be required. During this procedure, the surgeon reinforces the area with tissue loss using donor tissue, which may be taken from the roof of the mouth or from a tissue bank.
Dental Implants
Tooth loss can occur for a variety of different reasons, including tooth decay, gum disease, certain genetic factors, illnesses, and dental emergencies, among other causes. In the case of tooth loss, dental implants are the more appealing alternative to dentures. Implants act as artificial teeth that are surgically fastened into place. This surgical procedure is one of our company's specialties.
Corrective Jaw Surgery
Our oral surgeons in Gainesville repair defects such as unequal jaw growth. In these cases, the upper and lower jaws fail to grow appropriately; thus, the patient may experience difficulties with speaking, swallowing, eating, and breathing, as well as facial imbalances.. This procedure tends to be more complex because it requires an oral surgeon to repair or reposition the upper and lower jaws. Corrective jaw surgery may also be used to ease pain and discomfort caused by TMJ dysfunction (TMD).
Impacted Teeth
The emergence of wisdom teeth often requires operative measures due to their flawed alignment with the gum line. If this problem is continuously ignored, then this commonplace defect has the potential to cause damage to surrounding teeth, resulting in the need for cosmetic dentistry procedures. Faulty alignment, or in some cases, under the emergence of the wisdom teeth, is also a potential threat to the gums, which may eventually lead to the formation of tumors. This condition is corrected through surgical wisdom teeth removal. Contact Van Dyke General and Implant Dentistry to learn more about your treatment options for impacted teeth as well as our wide range of available services for a beautiful and healthy smile that lasts.
Cleft Lip & Palate Deformities
This problem occurs when the mouth and the nasal cavity fail to properly grow together during fetal development; thus, this results in the formation of a gap in the lip, or a split in the roof of the mouth. These problems are corrected through a series of surgical procedures performed by an oral and maxillofacial surgeon. Contact our dental office for more information about our available services.
Sleep Apnea Surgery
Sleep apnea, also commonly referred to as obstructive sleep apnea (OSA), occurs when the tissues located in the back of the throat fall back and block the airways during sleep. In some cases, obstructive sleep apnea may be successfully treated using conservative treatment methods, such as through oral appliance therapy or with a CPAP machine. However, in cases where the patient does not respond to more conservative treatments and in more severe cases, surgical intervention may be required.
How To Prepare For Oral Surgery
Prior to your oral surgery, your dentist will perform a comprehensive evaluation to check your teeth, gums, jaw, and surrounding structures. Additionally, they will take dental X-rays and scans to get a more in-depth view of the roots of your teeth, your jawbone, nerves, and other important dental landmarks. Using the information they find during this stage of the treatment, your dental team will tailore a personalized treatment plan to best accommodate your needs for oral surgery. Contact Van Dyke General and Implant Dentistry today to schedule an oral exam.
What Happens During Oral Surgery?
Some surgical dental procedures are performed in our dental office as outpatient procedures. Our dental surgeon may offer sedation options to help facilitate a greater sense of comfort during the procedure. Sedation options for oral surgery may include nitrous oxide, oral medications, or intravenous (IV) moderate or deep sedation. In other situations, oral surgery may be performed in a hospital under general anesthesia. To learn about the sedation options offered at Van Dyke General and Implant Dentistry, contact our office.
How Long Does Oral Surgery Take?
The duration of each procedure will depend on several factors, including the type of oral surgery to be performed, the number of teeth that will be treated, and whether or not sedation is used. A simple tooth extraction, for example, may take only 30 minutes to perform, while a more complex procedure, such as corrective jawbone surgery, can take a minimum of 3 hours to complete. Prior to your procedure, your dentist will discuss your procedure with you in full detail and answer any questions or concerns you may have. Schedule a dentist appointment today.
How Long Does It Take To Recover From An Oral Surgery?
Prior to oral surgery procedures, patients are provided with comprehensive instructions for post-operative care to help them heal optimally throughout their recovery process. It's important that patients follow these provided guidelines closely in order to reduce their risk of bleeding, infection, or other complications following their procedure. Should patients have any concerns during their recovery period, we advise them to contact our office right away for assistance. Our dental team is dedicated to helping each patient throughout each stage of their treatment.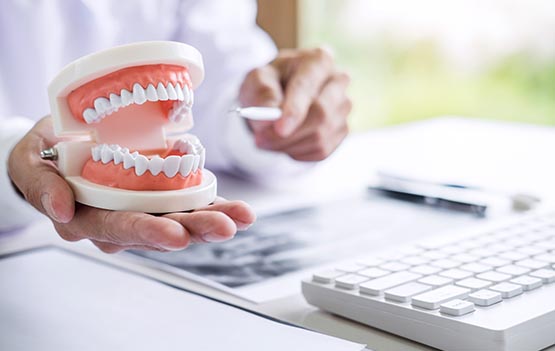 Contact Your Gainesville Dentist
Oral surgery is the ideal route for patients who are suffering from excruciating oral and/or facial pain, unwanted oral or facial defects that are hindrances to daily activities, or for those who want to be proud of their smile. At Van Dyke General and Implant Dentistry, we take all patients who are searching for the ultimate solution to living a happier, healthier lifestyle. If you are dealing with a dental emergency, schedule a dental appointment today!